IRCE @ RetailX is your go-to conference for things e-commerce. With over 130 learning sessions, actionable presentations, pro tips, and expert led workshops, you will walk away with a better understanding of how to transform your retail business. Blue Horseshoe's supply chain experts will be at booth 1450 ready to answer questions.
When: June 25-28, 2019
Where: Chicago, Illinois
Cost: Use our promo code to get $200 off the registration fee!
Solutions to Look Forward to:
Oracle + NetSuite
Scale your business with Oracle + NetSuite, a cloud-based ERP that connects your entire business across finance, procurement, sales, services and supply chain.
Streamline critical processes
Reduce IT costs
Easily scale and future proof your business
The Power Platform
The Microsoft Power Platform brings together powerful analytics, process automation, and no-code/low-code application development. With this innovative platform, you'll have the resources to you unleash your business data to analyze, act, and automate.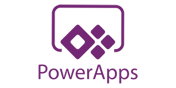 PowerApps enables you to build apps in a matter of hours. Easily track your app data, add Excel-like logic, and run apps on a variety of devices
Power BI shows you your analytics in a real-time, interactive dashboard. Make more informed decisions and transform your business
Microsoft Flow connects workflow automation directly with your apps without using code.
Upgrading to D365
Dynamics 365 for Finance and Operations uses secure, cloud-based data to provide real-time visibility into financial performance, automate processes, and strengthen your supply chain. D365 gives you intelligent business applications and insightful analytics so you can power transformation where it counts. D365 enables businesses of all industries and sizes to:
Reduce IT, operations, and implementation costs
Gain resources needed to innovate
Eliminate the tangled mess of legacy infrastructures and systems
Improve security and regulation compliance
Scale business quickly
Increase visibility throughout the entire supply chain
The Supply Chain Cloud
The Blue Horseshoe Supply Chain Cloud transforms your business by connecting physical assets with digital intelligence. The Blue Horseshoe Supply Chain Cloud Connects data through Microsoft Dynamics and Azure with purpose-built modules designed to extend and transform supply chain operations.
Build trust with trading partners
Get real-time connectivity
Optimize fulfillment strategies
Drive profitable fleet operations
Generate timely, accurate invoices
Minimize freight cost
Connect With Us
Want to connect with our supply chain experts? Fill out the form and we will reach out to you.
Have Questions? We are here to help.